The Youth Program(s) at AJJ is for ages 3-5,  5-7 and 8-12 (teens are recommended to train in the adult program).  Classes are structured in a fun, safe environment that will push and challenge your child both physically and mentally.  
Develop Coordination & Self Confidence

"Train the Brain" to Solve Problems

Learn Effective, Practical Self-Defense

No Contracts
Highly Experienced Instructors
Safe Training Environment
Physically, Jiu Jitsu improves and develops mobility, coordination and flexibility, and is a great form of exercise that helps with conditioning.  Jiu Jitsu teaches you how to use your body efficiently to escape and/or gain control over opposition using positional awareness and leverage. 
Mentally, when training Jiu Jitsu, you are always in a challenging situation in which you have to learn and think about how to resolve the issues (like playing chess).  You develop very strong problem solving skills over time. This changes the way one works through daily routines.. whether it is stress at school or work, dealing with people, conflicts, bullies, etc.  These mental gains build confidence and help with socialization. 
Whether your interested in self defense, building self confidence, getting in better shape, competing.. the Jiu Jitsu program and Ashburn Jiu Jitsu will check all the boxes!
Please fill in the information below and let's schedule a time for you and your child to visit the academy, meet us and jump on the mats to try it out.  There is no cost or obligation to try it out and we will have everything required… all you need to do is show up.
Ashburn's Premier Jiu Jitsu Academy!
Black Belt instruction with 20+ years training in Gracie / Brazilian Jiu Jitsu
1200 sq. feet of seamless mat space for training 
Extensive schedule with morning, mid day, evening and weekend classes.. 7 days a week
Men and women showers, reception lounge, and off the mat sitting and viewing area
Adults and Youth Classes
Hospitality bar and pro shop 
Flexible memberships options with NO CONTRACTS
Ashburn Jiu Jitsu Schedule
Morning, Mid Day, Evening Classes, 7 Days a Weeks
Swipe schedule to view full week >>>
Ashburn Jiu Jitsu (AJJ) specializes in the art of Gracie/Brazilian Jiu Jitsu. 3rd Degree Gracie Jiu Jitsu Black Belt, Mike Horihan, with his son Jake Horihan (Gracie Jiu Jitsu Black Belt), have amassed a great depth of experience working in the industry and on the mats.  Together they are prepared to focus their expertise on bringing the highest quality of instruction of Gracie / Brazilian Jiu Jitsu to the Ashburn area.
Ashburn Jiu Jitsu is a proud affiliate of Balance Studios under Phil and Ricardo Migliarese (Relson Gracie lineage).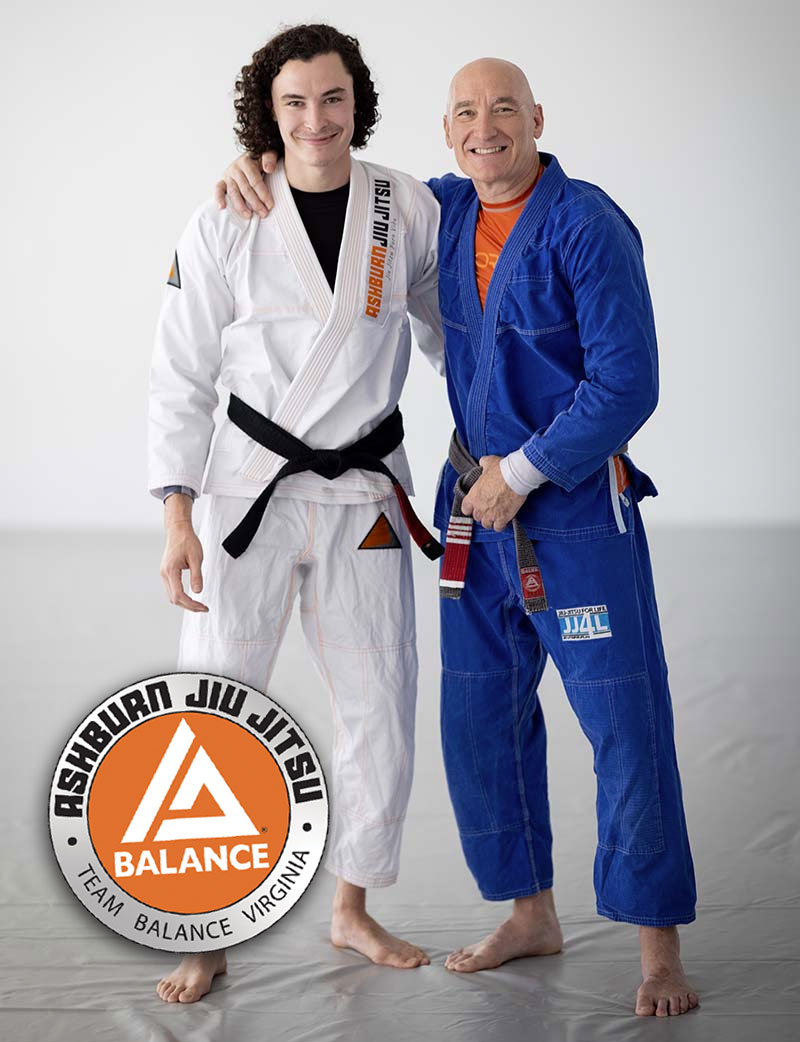 What people have to say about Ashburn Jiu Jitsu and the Horihan's
Mike and Jake Horihan are outstanding instructors. Mike opened my eyes to the true power of leverage and mechanics which are the key ingredients of Brazilian Jiu-Jitsu. I highly recommend Ashburn Jiu-Jitsu for all your Jiu-Jitsu training needs.
I had the pleasure of having Mike Horihan as a coach for several years. He has helped me improved my Jiu-Jitsu tremendously . He is a great instructor and a very good friend. I thank him for all the Bjj lessons, adventures and good times. I definitely recommend Ashburn Jiu-Jitsu. Jake Horihan is a very talented, technical black belt belt and a great instructor. He has been my training partner for several years. I definitely recommend him as a Bjj instructor and training partner. There is no doubt that you will find top notch Jiujitsu here.